…My sincere hope for you is that when you get to the end of your days, you don't look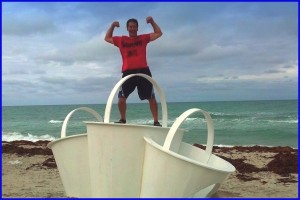 back on a worthless life filled mostly with heartbreak, failure and regret. Realizing what you could have been, but never sharing your true gifts with the world.
"Nice guy, what was his name again?"
Keeping these gifts all to yourself for lack of confidence or courage or paralyzed with fear, you just let them slowly wither away and die with you. "Wow, such a potentially talented sales person" THEY say at your funeral.  How tragic!
Rather, you're kickin' back and relaxing with your family on your own private beach, sipping an ice cold drink as the sun beats down on your tanned and wrinkled, leathery skin. You reflect on your 95 fantastic years of life with a proud smile on your face, knowing you put your heart and soul into everything you did. And then you keel over.
Look back with joy and smile real big!
Why? Because you enjoyed your life to the maxxx and helped as many other folks as you possibly could do the same along the way. Always giving it your best shot and in the end, the world was a better place because you were in it.
NO REGRETS!
Is it even possible? But Gern, how do I accomplish this incredible lifestyle? It's so very simple my friends!
Find, develop and use your gifts and talents to the fullest!
Contribute them to the world by giving them away to everyone you meet. Give them away with reckless abandon! Don't worry about looking foolish. You certainly will, but be bold. Be fearless. Be a complete imbecile if you need to, but above all, be yourself! Life's so much more fun that way too!!
Put reckless abandon to work!
When it comes to your life and career success, it is absolutely critical to develop and share those talents and gifts that you truly enjoy and come easy to you without the least bit of worry about how much money you will make or what you will get in return.
Happiness principle numero uno!
If you focus on your strongest most natural skill sets and develop them to their fullest capacity in what you do, your work will be play every single day. You will easily become one of the most in demand "experts" in your field. It may take a week or it may take a lifetime. It really doesn't matter how long it takes when work is joy!
"The thought of being penniless is merely a secondary distraction."*G
–Gern Flopkins
If you realize, for example, being cynical, lazy and sarcastic just comes naturally, look for career opportunities that incorporate these skills such as stand-up comedian or customer service worker.
Put your true talents to the test in the marketplace
Every endeavor you pursue should include these talents. When things come naturally like this, you know you are on the right track. Simply sit back and watch as your success careens out of control!
Be bold–Don't hold back!
You see kids, when you are one of the best at anything at all, success will surely follow. Keep in mind, however, if it's a more specialized skill like turning your eyelids inside out or burping the alphabet, you could easily make the finals of America's got talent, but to be honest, there's just not much money to be made there. For the most part though, the surest way to success and the riches you seek in your career is:
DO WHAT YOU LOVE.
Excerpt from: Gern Flopkins Sales Superstar