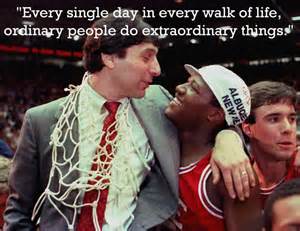 Why not March Happiness instead?
The Ice and snow are finally melting.  Folks are crawling out of their caves waking up from a long, cold winter slumber.  Rub your groggy eyes and take a look outside.  The sun is shining and spring is just around the corner!
And of course, you know what that means? 
Time to crown a new National Champion in the NCAA March Madness tournament!  A time when BW3's around the country are packed day and night.  A time when productivity in the United States comes to a screeching halt.
A time to take a good look at your business.
While you're taking in some incredible buzzer beater upsets that destroy your brackets, take some time out to review what kind of start you have gotten off to this year.  Are you slow and reactive just feeling out the competition or making things happen and off to a 14-0 run to begin the game; building momentum with every shot you take??
Where are you in terms of your game plan?
Are you executing to perfection?   Following through with what you said you were going to do?   If you are hitting 3's left and right and crashing the boards like you own the court, keep doing what you're doing! Jimmy V would be proud.
You'll soon be cutting down the nets!
However, if you're intimidated by the competition and overwhelmed by the noise, you may be content just getting a few points on the board.  With this lack of confidence and enthusiasm, Coastal Carolina will even smack you around and give you a quick exit from the big dance.  Catch yourself early and there's plenty of time to rebound.
Make your adjustments now!
When you get into this kind of a funk, always remember where you came from, what got you here and where you want to go.  Now get back out there on the court with renewed determination and grit.  Never quit! I can hear the roar of the crowd!  Can you?  Go Gern, Go Gern, Go Gern!

Remember, in this game, even the Cinderella can win it all! Or not…

(Arizona Cuts down the nets in  OT over Dayton) Revised: Virginia Villanova Duke Nevermind.